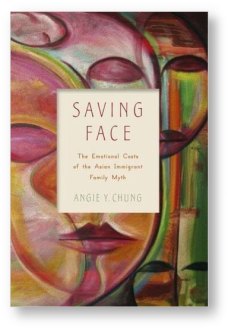 In my ongoing series of interviews with Asian American academics that highlight new books and research that illuminate different aspects and details of the Asian American experience, I am very happy to present an interview with my friend and colleague, Professor Angie Y. Chung, faculty in Sociology at the University at Albany, State University of New York, regarding her new book Saving Face: The Emotional Costs of the Asian Immigrant Family Myth. Her book explores the complex interpersonal and societal dynamics and conflicts that play themselves out between second generation Asian Americans (as children and adults) and their immigrant parents. The book's description:
Tiger Mom. Asian patriarchy. Model minority children. Generation gap. The many images used to describe the prototypical Asian family have given rise to two versions of the Asian immigrant family myth. The first celebrates Asian families for upholding the traditional heteronormative ideal of the "normal (white) American family" based on a hard-working male breadwinner and a devoted wife and mother who raises obedient children. The other demonizes Asian families around these very same cultural values by highlighting the dangers of excessive parenting, oppressive hierarchies, and emotionless pragmatism in Asian cultures.

Saving Face cuts through these myths, offering a more nuanced portrait of Asian immigrant families in a changing world as recalled by the people who lived them first-hand: the grown children of Chinese and Korean immigrants. Drawing on extensive interviews, sociologist Angie Y. Chung examines how these second-generation children negotiate the complex and conflicted feelings they have toward their family responsibilities and upbringing. Although they know little about their parents' lives, she reveals how Korean and Chinese Americans assemble fragments of their childhood memories, kinship narratives, and racial myths to make sense of their family experiences. However, Chung also finds that these adaptive strategies come at a considerable social and psychological cost and do less to reconcile the social stresses that minority immigrant families endure today.

Saving Face not only gives readers a new appreciation for the often painful generation gap between immigrants and their children, it also reveals the love, empathy, and communication strategies families use to help bridge those rifts.
How much did you personally struggle with balancing a close relationship with your parents and assimilating into mainstream U.S. society when you were growing up?

To put it simply, my experience as the oldest daughter of Korean immigrants is the main reason why I even decided to become a professor. I would say that I had a relatively happy childhood but like many of the folks I interviewed, I struggled with intergenerational conflict, unequal parental expectations, and dual identity struggles all throughout my high school and college years. In high school, I tried to cultivate a sense of belonging by relating to my African American peers but around that time is when the conflicts between Korean storeowners and Black patrons first broke out in the media. I remember this one time when I was sitting in an African American history course and we started talking about the Brooklyn boycotts against a Korean merchant. The worst part wasn't that people were speculating on the racism of Korean businessowners but that I didn't know what to say because I knew so little about Korean immigrants and their experiences, despite being the child of Korean immigrants myself. That was really a turning point for me because it started me on a journey to learn more about my parents and the larger ethnic community, as well as others like myself caught between two worlds.

Many Americans who are not of Asian descent still see Asian Americans as the model minority and as almost universally successful. How would you respond to their reaction that Asian Americans have nothing to complain about?

The experiences of Korean and Chinese Americans are quite diverse — not just in terms of our class situations, family structures, neighborhood experiences, and parents' migration histories but also, the emotional resources each of us can draw on from our family networks to cope with these day-to-day problems. If you read some of the narratives of Korean and Chinese Americans in this book, it is quite clear that many of them had to confront very traumatic and difficult situations as children and were forced to take on adult responsibilities at an early age because their parents were so busy trying to escape incredible hardships, survive in a new country, and deal with the humiliation of being treated as foreigners. I listened to stories about emotional and physical abuse, substance abuse, gambling addictions, molestation, and mental illness that afflicted different family members including themselves. Some were raised in single-parent homes and transnationally-split families, while others were fortunate to be raised in stable, emotionally supportive homes. But one thing I learned was that money did not always guarantee happiness, because even financially-secure family members could be struggling with so much emotionally as part of the immigrant minority experience.

The question readers may ask is then why do people think Korean and Chinese Americans are so "successful?" First of all, I'd like to problematize the way we narrowly define "success" as equated with money. Second, all of us are forced to come up with emotional strategies that allow us to preserve the dignity and dreams of our immigrant parents who sacrificed everything to come to this country while we try to assert our own identities, find our support systems, and follow independent paths for happiness. What that means is that we can't just disagree or disrespect our parents and insult their friends in front of others without it reverberating throughout our entire family histories. It means that even if we experience racism, homophobia, peer rejection, sexual assault, or some other personal trauma, we cannot simply talk about it with our parents because not only do they not understand American coping strategies but it could also end up doing nothing but hurting them very deeply. It means that there is much more emotionally at stake when we choose a personally satisfying romantic relationship or career as opposed to the ones that our parents worked hard to build for us. It means that as we get older, it is so much easier to act the part of the "good girl" or "good son" in front of some, while being something else in front of others. It means that there is so much more guilt, uncertainty, and obligation that is wrapped up into something simple as not coming home for dinner.

Can you elaborate more on your concept of "saving face" and how it relates to how second generation Asian Americans navigating between their Asian and American identities?

A deeply-engrained part of Korean, Chinese and other East Asian cultures is the importance of managing one's personal and collective dignity and reputation and protecting them from humiliating or embarrassing situations by whatever means necessary. This means not only molding one's behavior in front of others but also reigning in feelings of angers, shame and disappointment that they fear may undermine their self-integrity.

It is interestingly this same strategy that second generation Korean and Chinese Americans have adopted to manage the many tensions, contradictions and conflicts that emerge between the pressures of family values and gendered expectations, between class privilege and racial marginalization, and between immigrant parents' American Dream and their individual life goals. It is thus not a surprise that the image they project to the outside world does not always align with how they think, feel and behave inside. To me, saving face clearly demonstrates the amazing emotional resilience of Asian Americans to face their struggles as they come of age, but I also find that it has some substantial social costs, which I discuss throughout the book.

As your book highlights, there seems to be a very thin line between the model minority image and the "yellow peril" image of Asian Americans. How much did your respondents feel this tension in their everyday lives and interactions with other Americans?

The funny part was that if I started asking them if they ever felt any discrimination, most of them initially said no. But then you really start getting deeper into their personal life experiences and you start hearing about being treated as a foreigner, being blocked from work promotions, or being fetishized as geishas or demasculinized as sexless males in their dating relationships. The difficulty of articulating racism for Asian Americans is that the vocabulary we have been given in the post-Civil Rights era has been organized around Black-White race relations and that our experiences straddle the boundaries of "positive" and "negative" stereotypes — both of which have equally harmful effects but make it tricky to explain our grievances. So sure, some of us can use the model minority stereotypes to our advantage on occasion, but in the bigger picture of things, that thin line has created an even bigger barrier for us in terms of understanding our own racial experiences, finding allies among those who are oppressed by the same system, and voicing our political views to the outside world.

What are some pieces of advice that you can give young Asian Americans as they try to find the balance between retaining their ethnic identity and solidarity to their family and community, while also integrating themselves into mainstream U.S. society as much as possible?

The readership I would love to reach out to the most are young Asian Americans who I feel face the most pressures to negotiate these two worlds in their quest to fit in and find their identities but lack the emotional stability and support they need to deal with it head-on. My advice to them is to recognize that it is possible to achieve happiness in both worlds and to keep exploring new support systems to take them through this journey — whether it be through extended relatives, supportive friends, ethnic communities, or institutions. Despite the immense diversity of their families and experiences, the one common strand I found among almost all the participants is that they found ways to make sense of their struggles and come to terms with their relationship with their parents as they entered adulthood.

The other advice I would like to share is the need to create a proper emotional and racial vocabulary for Asian Americans by continuing to voice our political views, creating new ways to articulate our experiences whether it be through language, the arts, or the media, and cultivating ethnic political solidarity and non-Asian political allies including foreign-born Asians and other racial minorities. Recently, NBC got into hot water because they had plans to release a comedy sitcom about a white man who orders a Filipino mail order bride. Social media spread the news like wildfire and eventually NBC decided to cancel the sitcom. This would not have happened ten years ago and it is showing that we are also beginning to find our way, although we still have a long way to go.

As the political, economic, and cultural interconnections between the U.S. and Asia become more important (and presumably the rivalries along the same lines), how do you think Asian Americans will be seen by the rest of U.S. society going forward?

It is clear that the rise of the Asian immigrant family myth coincides not only with the stereotype of the dysfunctional Black family but more recently, with rising economic competition from China and the perception that Asians are outcompeting their White counterparts educationally and economically. The perpetuation of the Asian immigrant family myth including the evil patriarch, the Tiger Mom, and the robotic model minority child helps to reassert the global supremacy of white Americans by dehumanizing their perceived racial competitors and highlighting their own sense of moral superiority. Of course there are more dimensions to this story that we must consider to get at the different racial, gender and class dimensions of parenting and families in America, which may also explain the mixed reactions to Asian immigrant families, but if you ask me if this global context is relevant in any way, the simple answer is yes.