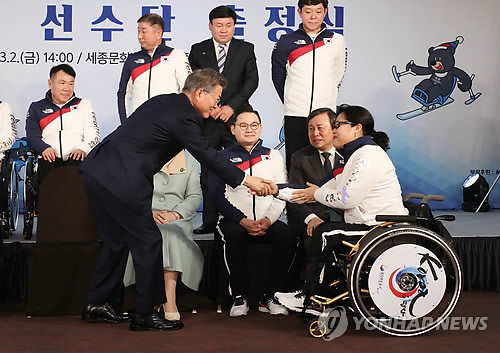 My fellow sociologist (and wife BTW) Miliann Kang is spending this current academic year in Seoul, South Korea working on a research project, funded by both the Korea Foundation and the Fulbright Program, focused on the institutional, political, economic, and person factors that affect how Korean women balance work and family demands. I anticipate that she will share some of her major findings with us a little later.
In the meantime, she took the opportunity to attend the recent 2018 Paralympics in Pyeongchang to relate and compare this experience with the last time that she attended the Paralympics, back in 1988, to reflect on and contrast how Korean society has changed in the past 30 years and how the 2018 Paralympics reflects the evolution of the larger South Korean identity. As just one observation, she shares this excerpt from her 1988 experience:
In 1988, I was visiting Korea to study Korean and learn about the country from which my parents had emigrated. The year before ― 1987 ― was historic, as millions had taken to the streets demanding democratic presidential elections. The women's movement was burgeoning. Relations with North Korea were tense. The country was buzzing with change, and hosting the Olympics was a prominent symbol of this change. The Paralympics attracted far less attention. I remember emerging from Jamsil Station into Olympic Plaza, literally in the middle of nowhere. (That nowhere is now the bustling area of Gangnam.) . . .

Then a disturbing scene caught my eye. A group of men were smoking and laughing, as one of them mimicked the athletes using exaggerated jerky motions. I was horrified. (I would have been even more horrified if I had known a future U.S. president would engage in similar actions, mocking a reporter with a congenital joint condition.) Looking back, I am most horrified that I did nothing. I am sure there were many moments where the Korean and international audience viewed the athletes and events with enthusiasm and respect, but this was not one of them. The Paralympians deserved better than this, from all of us.
You can read her entire article at the Korea Times website.